El Dorado Software Customer Site
This page is for the exclusive use of paid customers who purchased 3rd PlanIt from El Dorado Software or from an authorized distributor. This page has no link from the main web site. Please do not pass this link to unauthorized individuals.

Version 12 available for download

New features for version 12: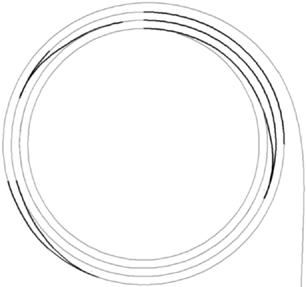 Find out about our latest great feature, Layout Splines. Use CNC precision to layout accurate centerlines, smooth, flowing track, and produce custom-cut roadbed for any kind of model railroad. Order your custom Layout Splines from El Dorado Software or use your own CNC router or laser cutter. You can build your layout more quickly and accurately than ever before!
DXF/DWG export and import now provide complete 3D support.
Groups can now contain a virtually unlimited number of member objects. Polygons and polylines allow up to 65,535 vertices.
Export to v10.1, v9.0 and v8.2 formats for easy file sharing.
Import STL files to add 3D objects to your track plan. Export STL files built from polygon groups or meshes for 3D Printing or CNC fabrication.
PC compatible with Windows XP, Vista, 7, 8 and 10. Mac compatible using Crossover v16+ or through emulators such as Parallels and VMWare Fusion. Two-button mouse recommended.
Tightly coupled integration with David Honner's CTnCTD (Curved Turnout and Crossover Template Designer). Use CTnCTD to create custom radius curved turnouts by flexing straight turnouts such as FastTracks, then import those turnouts directly into 3rd PlanIt.
Read about the new paradigm for layout design: SoftTrak!
Downloads
Software Licensing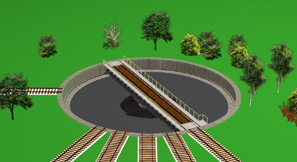 Version 12 is the most recent release of 3rd PlanIt. Updates are free to customers who have purchased a new version or upgraded within the last two years. If your most recent purchase does not fall within this two-year period, you may upgrade here. The installation will attempt to verify your UN/SN combination is valid for the release you are trying to install. Check Help / About in your current version to find the expiration date of your free update period. If you are running version 9 or previous, you need to upgrade.
Please write your downloads to CD or otherwise back them up.
Whether you are updating or installing for the first time, it's best to download the Complete release kit and write it to a CD for safe keeping. While we keep several previous releases available for download, only the most recent of each release version is posted, and only for version 8 and thereafter.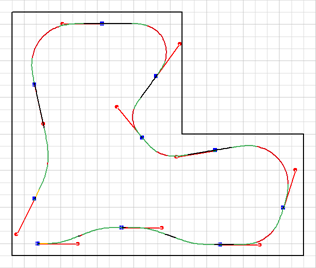 Version 12
Important note: Shortly after a new release of 3rd PlanIt, your browser or anti-virus software may warn you that the file has not been downloaded frequently. That is the nature of a targeted, niche-market program such as 3rd PlanIt. We strive to offer you the most modern, easy-to-use track planning system by providing regular updates that contain new features and design tools. All our release kits have been scanned for viruses by VirusTotal.com and we warrant them to be virus-free. If your browser offers you the choice of Delete or Actions, press Actions then Run Anyway. You can also right-click on the link and save the file to disk to perform your own virus check before running the installation. If you have questions or difficulties, please contact us at 3pi@TrackPlanning.com .
Troubles downloading?
If you have any difficulties loading these programs, please contact us via e-mail or at +1-916-382-9035 for assistance.
32-bit / 64-bit Automatic installation for Windows 10, 8, 7, Vista and XP
There is now one release kit for both the 32-bit and 64-bit versions of 3rd PlanIt. The correct version for your OS will be installed. Unlike previous versions, DXF/DXG import/export is now available in both the 64- and 32-bit versions. If you are running a version prior to v9, please uninstall it first. Versions 9 through 11 can be directly upgraded to version 12 without uninstalling. There are no longer "update" install kits, alllowing you to more easily save your downloads to CD and reinstall if a disk or system failure happens.
Always save your downloads somewhere! Writing them to a CD is the same as buying a CD.
Download 3rd PlanIt Version 12.06.001 Complete (123 Mb) 17 Feb 20 This download contains the program, textures, support files, examples and object libraries. If you are running a version prior to v9, please uninstall it first. Version 9 can be directly upgraded to version 10 without uninstalling. The User Manual is included with the download.
SHA256: 0319414b0979a3bf3755bb6d41687e2c04c7bef534b723fe1e0f2b461e66ff00

If you are running Windows 2000, you must use version 10.02.011, below.
Windows 2000 installations are unsupported.
Download PDF User Manual for v12 only

Please send suggestions and errata to this address.

Release notes

12.06.001.4008 Correct error when double-clicking an editing

handle.

12.06.000.4006 Improvements to SoftTrak routing to improve speed

and consistency of layout, as well as minimizing warning messages when connecting. Warning messages when connecting are improved. Object Data Window shows radius of most recent segment when drawing SoftTrak.

When starting a portion of SoftTrak with the Draw tool, hold the

Left Mouse Button down after choosing the start point. As long as the button is held down, you can change the direction of the first segment of SoftTrak. Release the Left Mouse Button to allow a curve to be drawn. You can hold the angle of the current segment by holding the Shift key down while moving the cursor.

New command: "Action / Resize image from measurement..." allows the

user to scale an imported image exactly, based on a scaling object in the image (such as a length in a turnout diagram). The user is prompted to select an image and a line drawn to the length of the scaling object, then the length of the scaling object as shown in the image. Both are rescaled to their desired length.

The Connect Tool now uses the Default Maximum Radius for line-to-line

connections. Use Action / Connect / Set Fixed Radius... to change the value. Use zero for Unlimited Maximum Radius. The default setting for the Default Maximum Radius has been changed from 60" to 250" (6m for metric defaults).

Correct problem when using Import CSV File As Group Of Contour

Lines that could inadvertently close uninvolved files and cause errors after the operation completes. Corrected problem during connections between a turnout and a tangent line. Ensure new splines created by slicing a Layout Spline display their proper length in the Object Data Window. Prevent spiral length setting from affecting SoftTrak routing that does not include easements. Allow spline ends to align regardless of difference in Z value.

Added Peco SL-E399F 3-way to N scale library.

12.05.001.3982 Allow tie color to be set by layer in the Layer Properties dialog. Do not update default rail and tie colors when

changed in Layer Properties Dialog. For ease of use, "Resize objects as group" is now available in the Resize dialog brought up with Ctrl+R. This setting has been removed from Tools / Options / Controls. The option is only shown if more than one object is selected.

The Rotate, Tilt and Roll setup dialogs (Shift+R, T and G) now

contain a similar option to "Resize objects as group". The options Resize As Group and Rotate As Group are stored separately. The Rotate As Group option applies to Rotate, Tilt and Roll. The option is only shown if more than one object is selected.

Ensure both easements are the same length when connecting two circles

of unequal radii with fixed-length easements. Fix problem in SectTrak that prevented completion of certain curves with certain track libraries. Fix Y and Shift+Y errors. Prevent objects from being deselected when entering 3D. Prevent 3D rendering of objects on enabled layers that are nested within groups on disabled layers. Correct alignment of SectTrak in some situations. Redraw SoftTrak and SectTrak after adding a new vertex while editing.

12.05.000.3963 Advanced OpenGL (AGL) provides much faster 3D.

AGL settings are found in Tools / Options / 3D Settings. Flyover in 3D is better coordinated between forward/backward and left/right. Mesh vertex structure is faster.

12.01.001.3955 Correct problem connecting two circles with Connect Direct.

12.01.000.3954 Allow DXF/DWG import and export with 64-bit version.DXF and DWG import speed increased significantly. Enable DXF/DWG

export of SoftTrak and SectTrak. Correct top-to-bottom ordering of imported PNG textures.

Allow textures to be nested within groups. Fix problem rendering

some textured polygons with "Replace color" selected. Fix problem that prevented editing of a selected object's coordinates on the first mouse click and left an improperly drawn shrinking circle.

Show area of a polygon in its property page. Prevent infrequent

crash using Connect / Vertical Easement. Shrink a turnout's Rail Closure Radius when the specified curve would overlap or come too close to either endpoint. This change also allows the Flex This Turnout button to appear in the properties page of various turnouts.

12.00.010.3944 Correct flexed turnout irregularity from having

an extremely short Normal track compare to the Routing track. Correct rare appearance of SectTrak at odd angles on certain hardware.

12.00.009.3941 Fix 3D timing problem that appeared on older

systems or hyper-threaded systems, laptops in particular. Random number generator speed and quality improved. Occasional chunky 2D rendering of circles and spirals is fixed.

12.00.008.3935 Show SectTrak in proper color when in Color By

Layer display mode. Fixed problems displaying and selecting grouped turnouts in the Object List (F8) when using Summarize Objects. Prevent SoftTrak and Quintic easements from being drawn with jagged segments in 2D and 3D. O Scale library now includes complete GarGraves turnout and wye selection with precise dimensions from CAD originals.

12.00.007.3932 Correct error changing elevation of a Path through

two consecutive turnouts.

12.00.006.3929 Ensure wide contour lines print at proper width.

12.00.005.3928 Fix for error in Create Mesh from Polygon Group.

Fix for resource leak experienced in long sessions without closing the program.

12.00.004.3925 Ensure polylines are visible in 2D when File /

Settings / Layout / Contour lines / Invisible In 2D is checked. Contour lines remain invisible as expected when this option is set. The program now requires you to close any Group Edits before saving a file or exiting the program to prevent any subsequent problems.

12.00.003.3923 Remove unnecessary notification screen when the

program is configured to present the Sectional Builder on startup. FastTracks N scale library now includes all curved turnouts. Support added for Micro-Engineering On30 #5 turnouts.

12.00.002.3921 Correct jagged circles in 3D view. Fix import of DXF/DWG files stored in Color By Layer mode. Export 3rd PlanIt circles to DXF/DWG files as circles if the start and end Z values are the same, otherwise export as 3D polylines. Correct surface orientation of spheres after drawing; align 5-stars and pentagons so a vertex lies directly north of the center point.

12.00.001.3918 Correct display of short lengths when using the Units setting of Feet, Fractional Inches. Allow refreshing SectTrak libraries of files created on computers with a different Standard Library structure.

12.00.000.3917 General release of SectTrak.

11.05.000.3915 Removed inappropriate warning about sectional track at startup.

11.05.000.3909 DXF export now includes vertex colors in polylines for compatibility with Fusion 360 DXF imports. Miscellaneous fixes to enhance stability. Allow import of STL files output by SolidWorks that do not conform to the STL standard for binary files. Fix for error using Connect Direct between a curve within a turnout to a line within another turnout. Improve screen display after a failed connection attempt. Fixed problem connecting two lines very close to parallel. Corrected bug using fixed angles when drawing circles.

Track end style drawing is improved. Line end highlighting has longer lines that are not drawn within SoftTrak. When SoftTrak is converted to basic objects, all the objects show highlighting. Red and green circles for selected objects are now larger and easier to see. Plan is no longer drawn twice when opened.

Allow F7 to be used in 3D to center existing objects in the field of view. If a field in the Object Data Window is Locked, clicking on the Lock icon now reliably unlocks the field. If using units of Feet and Fractional Inches, a value of zero now displays 0' rather than 0". Trailing zeros are stripped from angles and grades. Fixed problem using Fixed Radius when drawing circles. Changes for circles propagated to helix objects. Non-lockable fields in the Object Data Window can no longer be accidentally edited. Fixed angles and fixed grades are now displayed properly. Locked angles for circles and helix objects now behave more intuitively.

Construction of SoftTrak now avoids incorrect loopbacks in rare arrangements. Properly close the ends of track objects for 3D display when either ballast width or roadbed width changes. Fix problem closing ends of multi-segment objects such as circles in 3D.

When setting elevations with the Path tool, the coincident ends of other track were being set to the elevation of each end of the Path. This caused turnouts to lose alignment to other objects and closed paths (e.g. ovals) to always have the same value. Prevent memory leak when drill-down editing groups. If objects are selected when a layer is turned off, any selected objects in the invisible layer are deselected and the resize tracker is adjusted appropriately. Allow editing of polygons with up to 65,535 vertices.

Ensure objects connected to turnouts have their elevations set when using the Path Tool through turnouts. Improve response of Object Data Window, returning focus to the drawing area after making a modification. You can now click on the icon of a start or end dimension to generate a shrinking circle. Shrinking circles are now more visible. Fixed crash from improper stacking of certain multi-object commands.

11.04.004.3864 Fix improper Alt-key alignment of polygon vertices when editing a polygon.

11.04.003.3862 Improvements to Layout Splines: embedded numbers are now made of polylines rather than individual lines, and thin centerlines typical of Roadbed are no longer dashed. The dashed

style provides stiffness for Track Splines because slots are cut through the material wide enough to draw centerlines on supporting roadbed, but is not necessary when only scribed on the top surface. Prevent error computing substitution radius for certain turnouts.

11.04.002.3860 Improved direction of guide line when connecting

two circles. SoftTrak in Groups now highlights properly. Locomotive sounds are now started and stopped in 3D by a change in Options / Environment / Locomotive Sounds when the dialog is closed. Allow selected text to resize when changed by any corner resizing handle. Fix extra addition of line when drawing a projecting line with a transition curve. Limit string length to 256 when exporting to DXF per R12/13 requirements. Present drawing more quickly after opening a file. Delete a line's wood group after changing its properties or elevation so it can be properly rebuilt. Prevent crash from hitting Escape while moving objects. Turn off highlighting of any objects before printing.

11.04.001.3848 Fix bug accessing layer properties with incomplete

texture definitions. Fix bug using F11 and Shift+F11 on meshes and grouped text fields. Prevent fields in two dialogs from being partially hidden. Ensure tangent track is added during Connects.

11.04.000.3840 Allow Layout Splines to be sliced with the

Slice / Here command. If you don't like the direction a notch is placed, use Undo (Ctrl+Z) and start the slice from the other side of the spline. Allow spline labels to be added when slicing a spline, which default to the name of the spline being sliced. Any set of characters, numbers, spaces and dashes may be used. Fix for centerline cuts too close to notches. Merge centerlines when using Add / Polygons. Correct problem flipping polygons individually or within a group. Fix for crash after drawing a projecting line with an easement from an existing circle, using the space bar to switch tools.

11.03.008.3828 Fixed problems adding and deleting vertices from

Polygons and Splines.

11.03.007.3825 Fixed error in texture selection dialogs from invalid

parameter passed to program from Crossover/Windows List Box control. Program no longer adds a list of default tree textures to a new document. Updated FastTracks libraries for use with Draw and Connect Tools and reduced size. Turnout Properties Page now shows complete turnout for frog numbers over 8. Fixed problem inserting vertices while editing a polygon or polyline with varying vertex Z values.

11.03.006.3807 Prevent inappropriate zooming on Mac computers when

using two fingers on the trackpad. Added new N scale Kato parts.

11.03.005.3805 Includes Micro Engineering HO Scale #5 yard turnout

system. Fix intermittent problem at shutdown emptying the Undo stack. Refine number of segments drawn for very long splines.

11.03.004.3802 Fix error from attempting to use Add Polygons with

two polygons that do not overlap.

11.03.003.3800 Correct improper color when drawing Freehand Mesh.

11.03.002.3798 Prevent rare crash from attempting to connect two

circles, one of which is entirely contained by the other.

11.03.001.3796 After selecting Draw / Spline, the specific type of

spline to be drawn is now displayed in the Object Data Window. When drawing a turnout directly into an existing piece of SoftTrak, the angle of the turnout now matches the direction of the SoftTrak. The turnout can be dragged along the SoftTrak while holding the Left Mouse Button down. A copy of an existing turnout can now be inserted into SoftTrak using the Copy Tool or Drag and Drop with the Control key held down.

If a SoftTrak segment between two vertices results in an S-curve,

the radii of the two resulting curves are balanced as closely as possible without decreasing either of the resulting radii. Making a parallel of SoftTrak now generates an extra vertex between each half of any S-curves. This ensures the parallel copy will remain parallel through each curve, maintaining distance between tracks in both halves of S-curves. When File / Settings / 2D Display / Show Circle Centers is selected, circles embedded in SoftTrak now display their center points and radii.

Improve color when drawing or editing SoftTrak using Color By Type

display mode, including a red indication when radius falls below the layer's minimum radius in any display mode. SoftTrak now creates U- or S-shapes when a vertex arrangement would otherwise create a huge radius circle or a very long protuberance. Fixes to prevent a missing direction vector on the first or last vertices of SoftTrak after trimming or moving an end point. Allow a quintic easement to be copied in parallel if one or more of its ends have zero curvature. Display both vertical and horizontal curvatures for quintic easements that have vertical curvature.

When a new track layer is created, set ballast and questionable track

values according to the document's current model scale (HO, N, etc.). Correct missing centerlines or tabs in certain layout splines.

11.02.001.3789 Fix incorrect direction vector on final vertex of

newly drawn SoftTrak.

11.02.000.3787 Correct the orientation of polygons' front surfaces

when using the various Flip commands. Ensure spheres are drawn with polygon faces in the correct orientation. Ensure tunnel portals are not drawn as track when created in a track layer. Correct tunnel portals drawn from quintic easements. Allow quintic easements to be sliced. Fix crash when starting a connection in certain circumstances.

Fix problem adding library objects with wood line styles. Allow

ballast textures to be specified in defaults.3pi. Ensure Snapshot Bar is populated when first opened.

Allow connection of two concentric circles using either Connect

Direct or Connect With Easements. The connecting object is a Minimum Acceleration spline with vertices positioned to form a transition curve with a smoothly changing radius. If the transition curve does not end within one or both of the original curves, each is extended as required to complete the connection.

Ensure MA Splines and Quintic Easements whose start and end points

and direction vectors are all colinear show curvature in Z dimension when viewed in 3D. Contour Lines and Contour Plane edges are displayed in accordance with option settings in File / Settings / Layout. These options are now arranged more clearly in the property page. Provide Import Scaling dialog for STL imports.

11.01.000.3772 When exporting a DXF or STL file, the Scaling

dialog is now titled "Export scaling" rather than "Import scaling" and the scaling factor is displayed correctly. Export DXF and DWG files as R13.

Meshes may now be exported to STL individually without making a group

to the mesh. The Object Data Window now displays the full Z extent of a selected mesh. When Engineer's View is active, moving the Locomotive Camera object now highlights track under the Locomotive Camera object. Corrected problem of disappearing contour lines while dragging with the mouse.

SoftTrak now allows use of fixed-length spirals and is now computed

more quickly with better balance between easements and curves when constrained by size. If SoftTrak objects are selected when changing the Spiral Length in the Document Bar, the selected SoftTrak spiral length settings are updated as well. Fixed problem transforming SoftTrak to objects. Improved operation of Connect / Vertical Easement. Quintic curves now calculate their end radii more quickly and accurately.

Changed Layout Splines from using connectors to having tabs and

notches on mating ends. Fixed incomplete polyline in some Layout Splines after using Connect / Subtract Polygons. Layout Splines centerlines now contain fewer vertices while maintaining proper geometry. Possible fix for lack of information in 64-bit crash logs. If you choose Rail Spacing when building Layout Splines you can now choose between "Track width (98%)" and "Hand-laid (100%)".

Provide more stack space for both models: 32-bit versions have a 16MB stack

compared to 4MB in previous versions; 64-bit versions have a 64MB stack compared to 4Mb in previous versions. Bug fixed in meshes which had tunnels openings that cut the terrain, but were later repaired by command.

Fixed crash when pressing Esc from Path Tool after previously editing a polygon or spline and pressing Esc. Fixed incorrect duplicate object number report when slicing a line beyond its endpoint. Changes to 2D/3D swapping to improve reliability with large files or during system delays.

11.00.001.3755 File format change; please save files with new names. This is the final file format change for version 11. Fix "invisible sphere" after drawing new sphere. Fix improper upside-down star-shaped polygons and other geometries with both convex and concave corners.

A new connector shape for Layout Splines has been chosen to increase accuracy between adjacent splines. Use letters for connector labels rather than numbers. Provide connector labels whenever labels are included in build. Matieral size box now shows edge clearance after building Layout Splines. Prevent docked toolkit from being closed when building Layout Splines.

"View / Show / Layout Splines with tool offset only" added to allow output to laser printers that use a printer driver to obtain data for cutting. Properly update cut and engrave diameters when changed in the Layout Splines Information dialog.

11.00.000.3744 General release of version 11. This version has a new file format to support v11 enhancements. Please save your files under a new name or in a new folder when you first open them. You can use File / Export V10 to share files with other users who have not yet migrated to v11. Exports to v8 and v9 remain available.

This version introduces Layout Splines, a versatile new way to build your model railroad from your 3rd PlanIt track plan. See Chapter 18 of the new PDF User's Manual included with this installation. Press F1 in 3rd PlanIt to start Adobe Reader and open the User's Manual.

Other enhancements include the ability to save Groups with as many member objects as can be added. Polygons now support up to 65,535 vertices and Meshes support over 500,000 triangles. The new Connect / Add Polygons and Connect / Subtract Polygon tools work with all kinds of polygons and polylines as well as Layout Splines.

DXF export and import now contains full 3D support for all lines, polylines and polygons. You can also Import and STL file with File / Import / STL.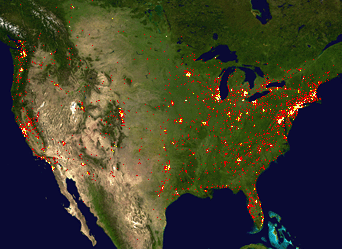 Previous versions
These downloads are unsupported. They are available if you need to restore a lost copy of an earlier verion of 3rd PlanIt or run on Windows 2000.
Download 3rd PlanIt Version 10.02.011 Complete (85.1 Mb) 17 Feb 14 This is the last version of 3rd PlanIt that supports Windows 2000.
Download 3rd PlanIt Version 9.04.021 Complete (84.9 Mb) 8 Nov 12
Download 3rd PlanIt Version 8.06.004 Complete (77 Mb) 2 Mar 09
Master Training© for 3rd PlanIt Users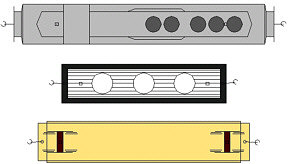 El Dorado Software is now offering one-on-one Master Training for all registered users of 3rd PlanIt. You can spend time asking questions and getting pointers from the developer of the program, Randy Pfeiffer.
Unlike a manual, in Master Training you can ask questions and get answers pertinent to your situation. It doesn't matter whether you are a new owner or have worked with 3rd PlanIt for ten years, you'll be able to learn the information you need, quickly. Furthermore, since Master Training is actually a personal conversation, Randy can present things in terms familiar to you, in an style that makes sense for you, and in the order you'd like to learn.
The whole goal of Master Training is for you to learn how to use 3rd PlanIt quickly and get on with your real task - designing your new layout. Since you're receiving Master Training, you don't even have to crack open the manual. If you'd prefer to learn by doing rather than reading, we are happy to help.
Your satisfaction with Master Training is guaranteed. If you are not satisfied with your training after the first 30 minutes for any reason whatsoever, just say so. We'll cheerfully refund your entire payment for training, regardless of how much training you originally purchased.
You'll get the most out of Master Training using our secure Remote Control module to share your workspace with your trainer. We can both see each other's actions, learning subtle details and important points with nearly instant reponse at both ends. This is a custom module of TeamViewer: a reputable, proven tool 3rd-party that makes the most of our time. Click on the Remote Support icon above to load the module you'll need running on your computer.
You can purchase Master Training in one-hour increments. Master Training costs $50 per hour M-F 8-5 Pacific Time, or $60 per hour for Extended support that includes Saturdays and 8am-8pm Pacific Time. You can use an hour of Master Training in one session, or in chunks of 15 minutes as you require. However, it is necessary to manage time, so each training-related phone call counts for a minimum of 15 minutes. Should time run over by a few minutes, you won't be charged extra - your satisfaction is always our first priority!
Please note that all hour-long sessions and any weekend support should be scheduled in advance. As you may know, El Dorado Software is a one-man company, so it's quite possible that you won't get an answer outside of normal business hours if you haven't scheduled in advance. While we will do our best to provide Extended support on an as-needed basis, we do not guarantee avaiability outside of normal business hours without pre-scheduling.
To set up Master Training, please visit the order page and select the training option that's best for you. Place an order for support in one-hour increments using the Quantity field. Include your preference for the time and date of your training (or first training, if appropriate) and make sure your phone number is correct. We'll get back to you as soon as possible to confirm your appointment or to suggest alternatives. The primary contact will be through e-mail, but the telephone may be used as an alternate means of contact.
Master Training time is limited. Only a few hours per day can be allocated to Master Training, to allow continued development and support of 3rd PlanIt. While we will do our best to meet your preference, it may be necessary to work out an alternate schedule. If we can't make a schedule that works for you, your payment will be cheerfully refunded.
This is a no-risk opportunity to learn the inner secrets of 3rd PlanIt, or to come up to speed quickly using the tools you need first. We hope you'll enjoy your time!

Randy's Private HO-scale Sale
I'm selling a selection of locos, rolling stock and structures, all in excellent or mint condition. Please visit this page.